An intelligent WFM software onboarding and deployment solution.
The CommunityWFM Steps-to-SuccessTM process for Enterprise customers was created after experiencing first-hand how customers lacked knowledge when it came to optimizing their existing workforce management (WFM) software solution. Because of this knowledge gap, we chose to make onboarding a top priority within our company.
Our team of highly experienced WFM professionals have deployed and optimized workforce management software for hundreds of contact centers across many different industries. In fact, all of our onboarding specialists have spent years in WFM roles for contact centers. Because of this, they are the best of the best when it comes to workforce management software training and deploying WFM software in the real world. They know the challenges you face and ensure that there is no doubt CommunityWFM customers will be able to maximize our professional workforce management software to fit your unique needs.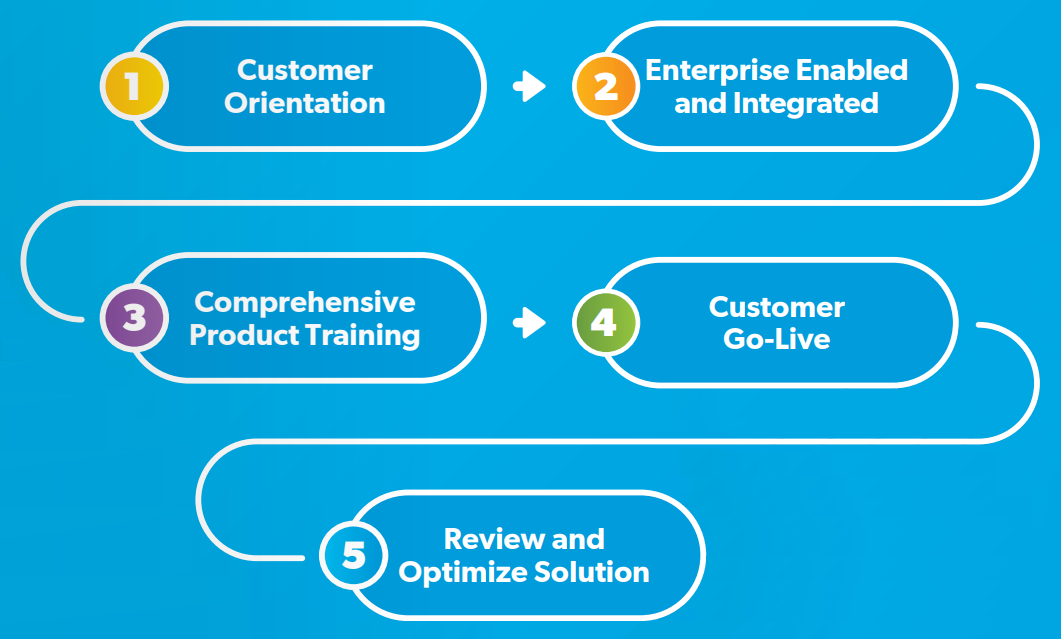 A breakdown of the CommunityWFM onboarding process.
Our consultative approach ensures that your CommunityWFM onboarding will be as smooth as possible. We don't skip steps when it comes to our customers, we get it right the first time. Here are some key details of what to expect with our Steps-to-Success process.
Step 1: Customer Orientation
Once you select CommunityWFM and make it official, our experienced onboarding team will reach out to get things started.
Team introductions and lines of communication are created.
We will confirm the scope of work and how CommunityWFM will align within your company.
The go-live timeline is discussed alongside milestones and training objectives.
Step 2: Enterprise Enabled and Integrated
Next up is getting your instance of CommunityWFM up and running. Any necessary integrations will also be assessed and created during this step to ensure seamless communication between your existing systems and our software.
Create a SaaS (Software-as-a-Service) instance of CommunityWFM that resides in the cloud.
Align and integrate our software with the required systems (ACD, email, SMS, etc.).
Work with your IT team to create any custom integrations or API connections.
Step 3: Comprehensive Product Training
Our training takes place virtually or on-site and utilizes your existing call history, agent profiles, and scheduling rules. This isn't a generic workforce management software training session. Instead, it's custom training just for your company.
A full two-day AND four-day training experience specifically to meet your needs.
Comprehensive training on features and best practices for both primary and backup software users.
Hours of dedicated workforce management training for contact center supervisors is included.
Step 4: Customer Go-Live
Once training is complete and your company is ready, we will push your SaaS instance of our software live and into the world. Our specialist and customer success manager (CSM) will be right by your side as the software is launched. Our team will be available to answer any questions, work with you to optimize workflows and process within the software, help cover any gaps in training, and so much more. We know the go-live day is a big moment with a WFM software solution and we take pride in standing next to you.
Step 5: Review and Optimize Solution
Some companies forget about you after the software is deployed and move onto the next customer. We do the opposite. Built into our Steps-to-Success process is an optimization session to improve how you work within CommunityWFM.
An extensive post-launch review occurs to fully close the loop on previous steps.
Your specialist lets you control the agenda to get the information that will make a difference.
Common requests include training refreshers, workflow optimizations, feature customizations, and more.
This session is critical for ensuring everything is working well and you are happy as a CommunityWFM customer. It can also be a good time to ensure software settings are adjusted to your preferred language. Our business has been built over the past decade on customer satisfaction and we do everything we can, such as offering managed services, to ensure our customer relationships are happy and healthy.