The CommunityWFM contact center scheduling software solution is one of the leading agent scheduling tools on the market. Our customers enjoy the following scheduling solutions so they are able to craft the exact schedule for their needs.
Fast and accurate schedule optimization - fixed, floating and rotating schedules
Intraday schedule re-optimization of selected events
Fully automated end-to-end scheduling bidding
Schedule efficiency measurement and user-adjustable cost vs. coverage analysis
On top of these contact center schedule optimization solutions, one offering in particular sets scheduling with CommunityWFM apart from the competition...
Automated Schedule Attendance Monitor (ASAM)
ASAM, integrated with the phone system and the agent mobile app, provides an automated and streamlined approach to track agent arrival and attendance. The Attendance Monitor in ASAM allows supervisors to view agents as they arrive by specific time intervals, and the Arrival Detail Console provides a dashboard of an agent's status while streamlining the process of managing exceptions.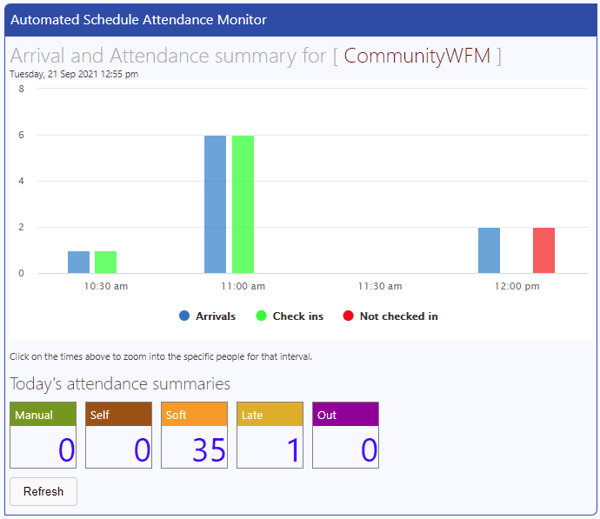 Agent Self Service Kiosk (ASSK)
Companies rely on ASSK to provide schedule adjustment options. When implemented, flexible and unstructured events such as compliance tasks or training can be placed onto the schedules of agents. Each agent can then choose when they want to complete the event, including during off hours. Every selected time is automatically approved or denied based on preconfigured business rules to ensure the event does not conflict with an existing schedule.