How does your WFM software compare to the rest of the industry?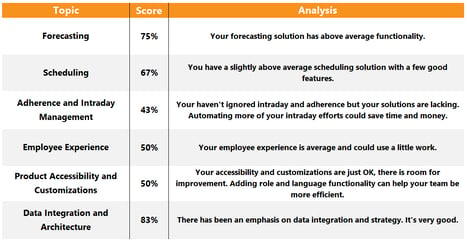 Modern workforce management (WFM) software with the right features can positively impact a contact center in many different ways. But does your current WFM solution have the right functionality in place to truly make a difference?
Our workforce management software self assessment tool asks over 30 questions to see where your current WFM technology performs well and where it needs improvement. Focused on features, accessibility, data management, and more, it's a comprehensive WFM self assessment tool that will identify areas of improvement for both emerging and established contact centers.
Also included is a full list of the questions in an easy to answer Excel format that can be sent to WFM software vendors during a proposal process. Download the workforce management assessment tool today and get your highly customized score!
Download the self assessment tool.